Place Your Bento Order Today! Boxes Starting at $15/ea.
Minimum Order of Four Boxes.
Give us a call (844) FoodTour / (844)366.3868
---
What are Bento Boxes?
In 2013 while on tour with Paul McCartney, Chef Jen enjoyed her first bento box while on a bullet train ride from Osaka to Kyoto, Japan. It was such a memorable dining experience that Jen decided to recreate these classics to incorporate food from around the world. Each Box is deigned to take you on a culinary excursion. They are the perfect balanced meal. Each box has four compartments featuring a small bite/tapas, an entree, a side and a stunning sweet ending! Our Bento Boxes are artfully presented in an eco-friendly box with display window and packaged with a burlap twine wrapped bamboo cutlery set for your enjoyment. Take a look at our Bento Box menu and place your order today to begin your culinary journey. Looking for a different culinary experience? Give us a call to speak with our team about customizing your personal Bento!

​Bento is a single-portion takeout or home-packed meal common in Japanese culture. A classic bento holds rice, fish or meat, with pickled or cooked vegetables. Bentos are wildly popular and can be found in many places throughout Japan, including convenience stores, bento shops and railway stations. However, Japanese homemakers often spend time and energy on a carefully prepared bento boxes for their spouse, child or themselves. Bentos can be elaborately arranged in a style called "kyaraben" ("character bento"). Kyaraben are typically decorated to look like popular characters from Japanese cartoons, comic books, or video games. Another popular bento style is "oekakiben" or "picture bento". This is decorated to look like people, animals, buildings and monuments, or items such as flowers and plants.



Bento Box Breakfast Menu
Priced Per Person. Minimum order of (10) Identical Breakfast.
---
Travelers Breakfast Case
Choice of Breakfast Handheld (See List Below)
Hash brown Patty
Whole Fruit (Apple, Orange, Banana, or Pear)
Fresh Baked Pastry (Mini Muffin or Scone)
$13.95/ pp

European Railcar Breakfast Box
Artisan Cheese & Charcuterie Plate
Fresh Baked Pastry (Mini Muffin or Scone)
Seasonal Fruit Salad
Granola & Greek Yoghurt Cup
$14.95/ pp

Nova Scotian Breakfast Box
Cold Smoked Salmon Plate with Lemony-Dill Cream Cheese, Shaved Red Onion, Capers, Lemon Wedge
Soft-Boiled Egg & Rocket
Artisan Bagel
Seasonal Fruit
$16.95/ pp
​




EARLY MORNING FLIGHT CASE
Fresh Bagel with Butter, Cream Cheese and Preserves
Fresh Baked Pastry (Mini Muffin or Scone)
Seasonal Fruit Cup
Granola & Greek Yoghurt Parfait
$11.95/ pp

JOURNEY JAR: SMOKED SALMON PARFAIT . . . . . . . .$7.95ea
Layers of smoked salmon mousse, cucumber, red onion, hard- boiled eggs, capers and rocket. Includes bag of housemade bagel chips

JOURNEY JAR: ISRAELI CITRUS RICE PUDDING...............$6.95ea Creamy rice pudding with medjool dates, almonds, apricots, dried cherries and cinnamon crumble

JOURNEY JAR: POWER BREAKFAST SWISS MUESLI...........6.95ea
Almond milk soaked oats, dried cranberries, citrus-macerated berries

JOURNEY JAR: ISLAND POLENTA PORRIDGE ........$6.95/ea
Cooked with coconut milk garnished with toasted cashews, dried apricot-mango and cranberry blend and shaved coconut

JOUNEY JAR: GREEK YOGURT PARFAIT.......$6.00/ea
With fresh berries, agave and granola clusters.
​
Bento Box Lunch Menu
​Spa Cuisine Bento: $25.00/each
Box 1: Grilled Salmon, Lemony Rice Pilaf, Green Beans w/ Roasted Cherry Tomatoes & Charred Lemon
Box 2: Spinach-Artichoke Dip & Crudités Vegetables.
Box 3: Caesar Salad, Boiled Egg, Herbed Crouton.
Box 4: Fresh Berry Tart w/ Vanilla Custard.

Mediterranean Box: $30.00/each
Box 1: Grilled Australian Lamb Chop, Cous Cous & Almond Salad, Roasted Asparagus & Farmers Carrot.
Box 2: Hummus Plate, Hand Rolled Dolmas, Pita.
Box 3: Greek Salad w/ Imported Feta & Red Wine Vinaigrette.
Box 4: Chocolate Cupcake w/ Berries & Chocolate Cigarette.

Southern Picnic Bento: $20.00/each
Box 1: Buttermilk Fried Chicken Breast, Potato Salad & Green beans.
Box 2: Wilted Collard Greens, Fried Quail Egg, Pickled Shallot, Roasted Tomato.
Box 3: Watermelon Feta Salad with Mint-Balsamic Vinaigrette.
Box 4: Caramel Apple Bar.

Chinese New Year: $20.00
Box 1: Orange-Chicken, Scallion & Egg Fried Rice, Sesame Greenbeans
Box 2: Spring Roll or Potsticker
Box 3: Soba Noodle & Shaved Vegetable Salad.
Box 4: Golden Butter Cake w/ Green Tea Whipped Cream, Berries & Crushed Fortune Cookies.

​South of France Bento: $30.00/each
Box 1: Grilled Filet Mignon, Herbed Potato, Brocolini, French Onion Confit & Roasted Baby Bella Mushrooms
Box 2: Spinach, Apple & Glazed Pecan Salad w/ Honey Balsamic Vinaigrette.
Box 3: Artisan Cheese Plate w/Grapes, Chutney and Crackers
Box 4: French Macaroon Cookies and Berries

Traditional Japanese Bento: $25.00
Box 1: Beef Yakitori Skewer, Sticky Rice, Ginger-Soy Asparagus, Scallion and Shiitake Mushroom
Box 2: California Maki Roll Plate with Pickled Ginger-Flower, Wasabi & Soy Sauce
Box 3: Soba Noodle & Shaved Vegetable Salad.
Box 4: Golden Butter Cake w/ Green Tea Whipped Cream, Berries & Crushed Fortune Cookies.

"Nights in Verona" Italian Bento: $20.00/each
Box 1: Citrus Grilled Chicken, Toasted Orzo w/ Kale,
Green Bean Almandine w/ Charred Tomato.
Box 2: Hummus Plate, Hand Rolled Dolmas, Grilled Pita Bread, Crudité Vegetables.
Box 3: Caprese Salad w/ Baby Mozzarella, Cherry Tomato, Fresh Basil & Balsamic Drizzle.
Box 4: Honey-Ricotta Filled Cannoli w/ Fresh Berries
Kids Bento Boxes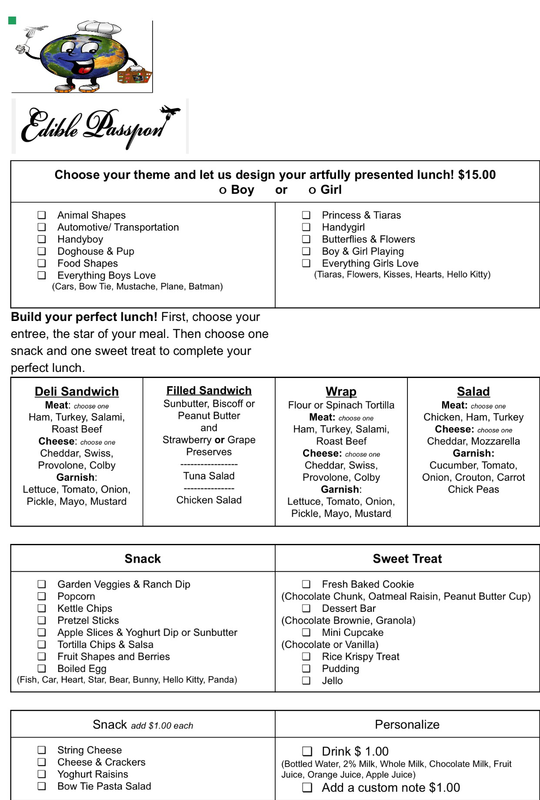 Order and Cancellation Policy
​If you need to increase, decrease, or cancel your order, please follow these guidelines:
Decreases
in orders require
72
hours notice.
Additions
in orders require
72
hours notice.
Cancellations
of orders:
Orders cancelled with
8 days +
notice will incur a fee of 25% of the total of the order. Orders cancelled within
4-7
days notice will have a 50% charge of the total order amount, and orders cancelled within
72 hours
or less notice will be charged the full amount of the catered event. All refunds are at the discretion of Edible Passport.
PAYMENT
Payment may be made by American Express, Visa, Master Card or Discover. We will accept payment by cash with a credit card guarantee. Corporate customers who order on a regular basis may inquire about setting up billing with NET 30 terms.
OFFICE HOURS
Monday to Friday: 9:00 am - 5:00 pm Saturday: By appointment only Sunday: Closed
CATERING HOURS
24 Hours a day, 7 days a week
All prices and menus are subject to change without notice.